From excellent science to application – with the SaxoCell innovation project in the BMBF competition "Clusters4Future"
They want to make better use of the body's self-healing powers and make "living drugs" available to many patients: Scientists from the TU Dresden, the University of Leipzig, and the Fraunhofer Institute for Cell Therapy and Immunology IZI have started the conception phase in their joint cluster SaxoCell in the innovation competition "Clusters4Future" of the Federal Ministry of Education and Research (BMBF). The SaxoCell project has started on May 1st 2020 and was selected as one of 16 out of 137 proposals for funding of the first concept phase in 2020.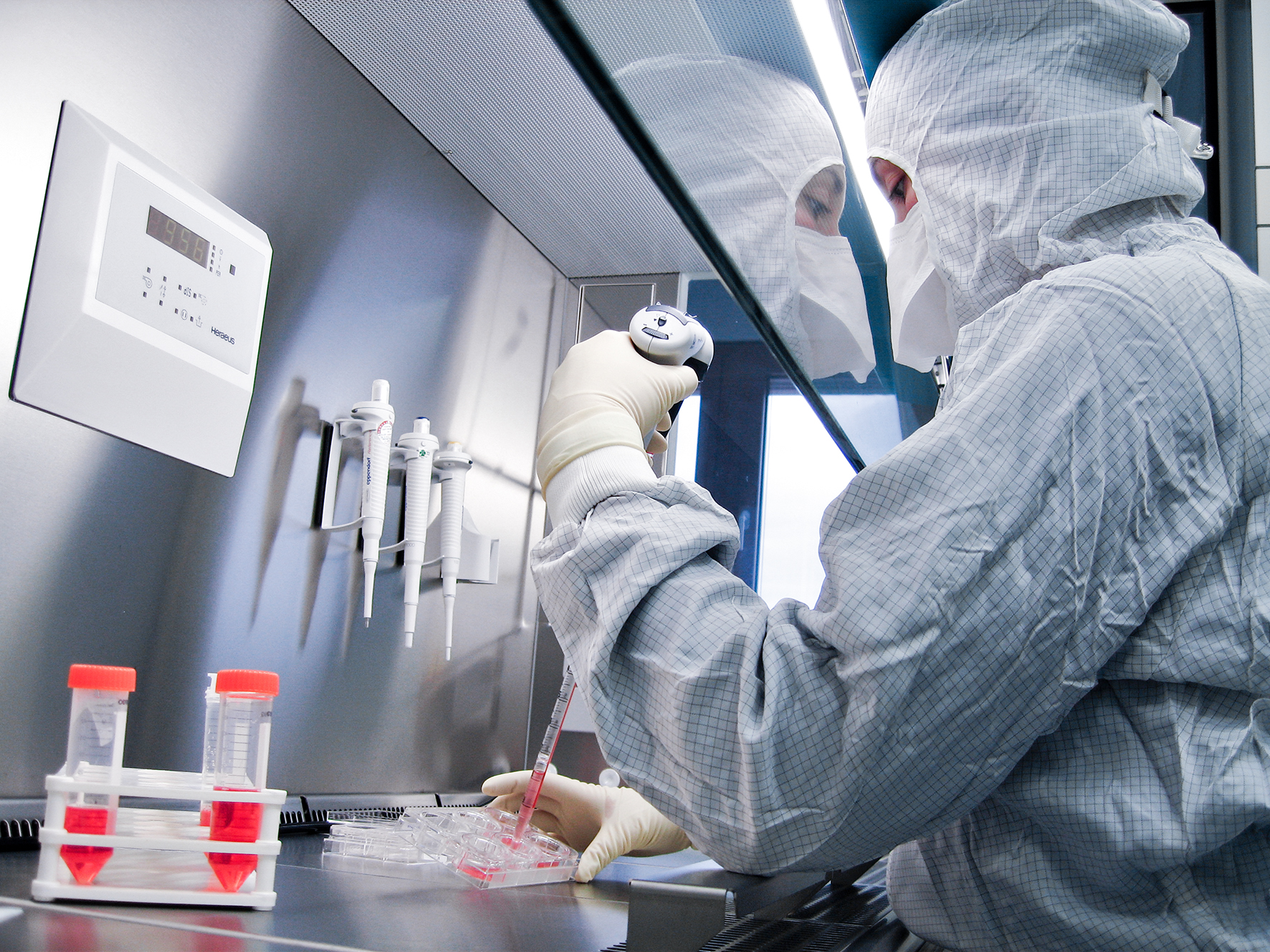 Biomedical research today stands at a crossroads where the production of novel drugs is technically possible and existing obstacles can be overcome. Experts from the Technical University of Dresden (TU Dresden), the University of Leipzig and the Fraunhofer Institute for Cell Therapy and Immunology IZI have joined forces in the SaxoCell cluster to develop new production methods and applications for innovative cell and gene therapies. The central goal of the BMBF's SaxoCell cluster for future is to realize the broad application of novel, personalized gene and cell therapeutics, so-called "living drugs". Key and necessary features are flexible automated systems so that the promising new therapies can be used more widely and cost-effectively than previous therapies. The development of such technologies requires a strong involvement of regional industry and commercial partners, which is a crucial aspect for the success of the cluster.
"The body has cells with excellent self-healing properties. Our task is to produce such cells with precisely defined functions and a high safety profile for application on an industrial scale and at socially acceptable costs. This is a wonderful opportunity for cooperation between academic research and industry in Saxony," says Professor Ezio Bonifacio, the cluster spokesman for the TU Dresden side.
Clinical successes include T-cell therapies, particularly CAR-T cells, in whose production the biotech and pharmaceutical industries have already invested and whose clinical testing and application is already being carried out by SaxoCell's partner institutes and clinics. "The next step is to overcome the technological barriers to enable broad application," stresses Professor Ulrike Köhl, cluster spokeswoman on the Leipzig side and Director of Fraunhofer IZI.
The SaxoCell cluster aims to bring together gene and cell therapy, artificial intelligence, automation and regulatory areas from science and industry to establish a unique value chain in Saxony. The six-month concept phase will be used to bring together partners and start-ups and establish a work plan for this ambitious programme over the next ten years.
The German government plans to provide up to 450 million Euros for the Clusters for Future Initiative over the next decade. In the first round, 137 proposals from all over Germany were submitted for the conception phase, from which an expert jury selected 16 ideas. These projects are now entering a six-month conception phase, each of which will be funded with up to 250,000 euros. The concepts developed in this phase will be submitted as full proposals in November 2020. They will be evaluated by a jury of experts. Up to seven future clusters will be selected for continuation in 2021.

Scientific contact persons
Team Dresden:
Professor Ezio Bonifacio (ezio.bonifacio@tu-dresden.de)
Dr. Maren Henneken (maren.henneken@tu-dresden.de),
Team Leipzig:
Professor Ulrike Köhl (ulrike.koehl@izi.fraunhofer.de)
Ilka Henze (ilka.henze@izi.fraunhofer.de)

Press contact
Cornelia Probst
Head of PR / Communications
Technische Universität Dresden
Center for Molecular and Cellular Bioengineering (CMCB)
Fetscherstr. 105
01307 Dresden, Germany
Phone +49 0351-458-82065
cornelia.probst@tu-dresden.de
www.tu-dresden.de/cmcb