Fraunhofer IZI presents new technologies and services for the healthcare industry at the Fraunhofer Solution Days
The first Fraunhofer Solution Days will take place digitally from October 26 to 29, 2020. The online event of the Fraunhofer-Gesellschaft is dedicated to the four topics health, digital economy, plant and mechanical engineering and mobility. The Fraunhofer Institute for Cell Therapy and Immunology IZI is participating with various exhibits and lectures, particularly in the field of health.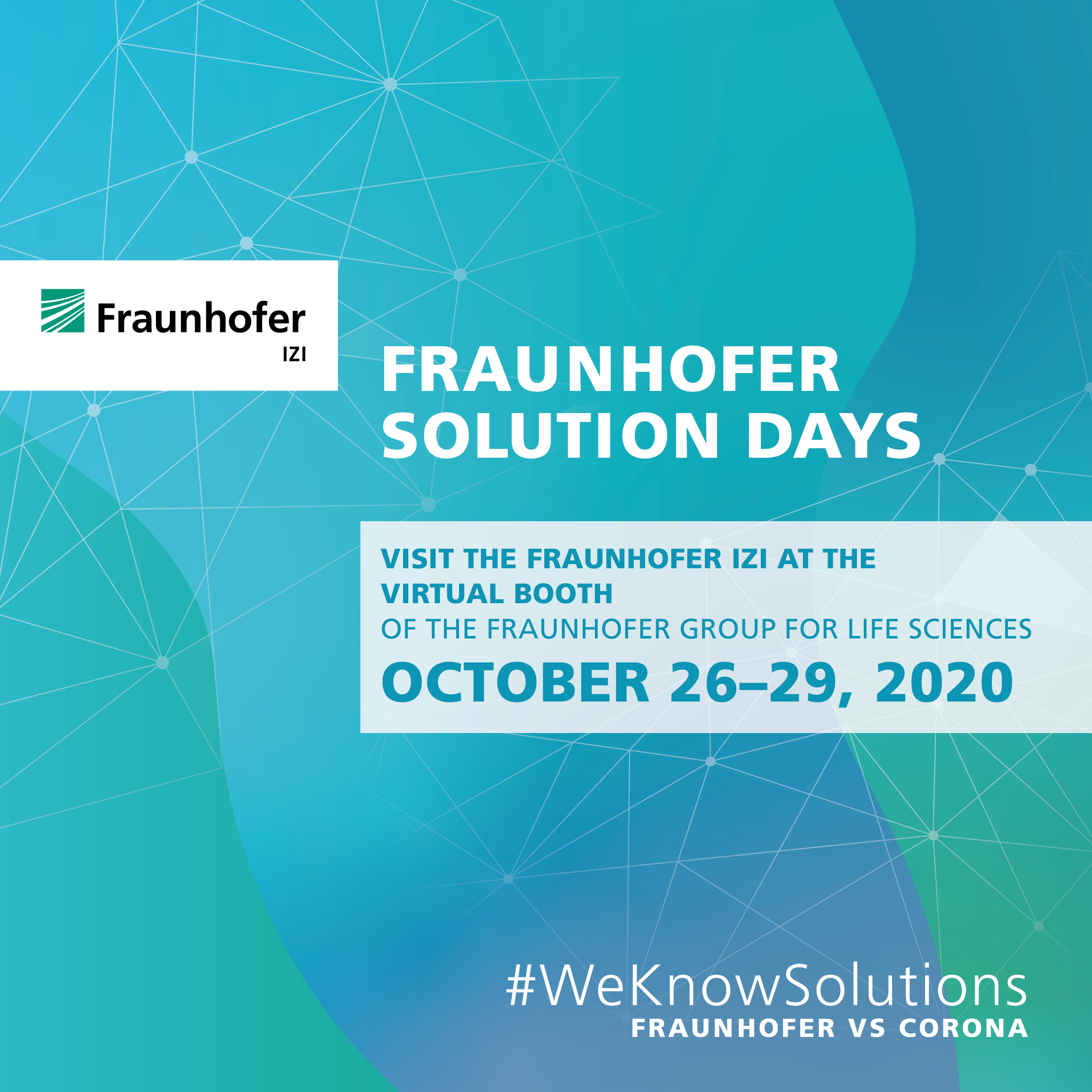 Fraunhofer IZI is one of seven member of the Fraunhofer Group for Life Sciences. The group exhibits together at the Fraunhofer Solution Days. Fraunhofer IZI will present, among other things, an innovative process for the inactivation of pathogens using low-energy electron irradiation. With this method, the nucleic acids of pathogens can be selectively destroyed without losing the structure of surface antigens. This technology makes it possible for the first time to produce dead vaccines without chemicals, quickly and reproducibly.
Furthermore, Fraunhofer IZI will provide information on the establishment of pharmaceutical manufacturing processes for cell and gene therapeutics at the booth of the Fraunhofer Group for Life Sciences. This is extremely complex and is closely linked to the definition of corresponding quality controls and documentation. Once established and approved by the authorities, changes and optimizations can only be realized at great expense. In the GMP Process Development Unit of Fraunhofer IZI, ATMP manufacturing processes are tested, optimized and validated flexibly and cost-efficiently and regulatory approvals are prepared. In the GMP clean room facilities of the institute, the developed processes can subsequently be implemented and produced for clinical studies.
In addition, Fraunhofer IZI as a partner in the Fraunhofer Project Hub for Microelectronic and Optical Systems for Biomedicine MEOS will present a new method for non-invasive diagnostics of bacterial infections. The method presented at the Fraunhofer MEOS booth uses ion mobility spectrometry (IMS) to examine volatile organic compounds in the air breathed by bacteria as metabolic metabolites. Compared to previously used methods such as mass spectrometry, IMS can be realized more cost-efficiently and with significantly less aparative effort in the clinical environment.
On October 28, 2020 at 11 am, researchers of the institute will also present a selection of developments on the topic "Diagnosis and Therapy of Infectious Diseases" in a lecture. Among other things, they will provide information on the current testing of active substance and vaccine candidates against SARS-COV-2 and explain the new method for the chemical-free production of dead vaccines using low-energy electron irradiation, which will be presented at the stand of the Fraunhofer Group for Life Sciences. Another topic will be the analysis of respiratory gases using ion mobility spectrometry for the diagnosis of bacterial diseases.
Participation in the Fraunhofer Solution Days is free of charge. We would be pleased to talk to you there.

Fraunhofer Solution Days 2020
26 – 29 October 2020 | Digital Event
More informationen
Registration