Rapid diagnostic device for trachoma eye infection delivers first promising result
A molecular biological, chip-based rapid test for the diagnosis of the eye infection trachoma developed at the Fraunhofer Institute for Cell Therapy and Immunology IZI has proven promising in first studies. The results of the study carried out together with the London School of Hygiene & Tropical Medicine and the Kilimanjaro Christian Medical Centre, Tanzania, have now been published in the journal "Parasites & Vectors". The development of the DjinniChip was supported by the ClearTrachoma project of the non-profit organization Task Force for Global Health in a program of the Coalition for Operational Research on Neglected Tropical Diseases (COR-NTD).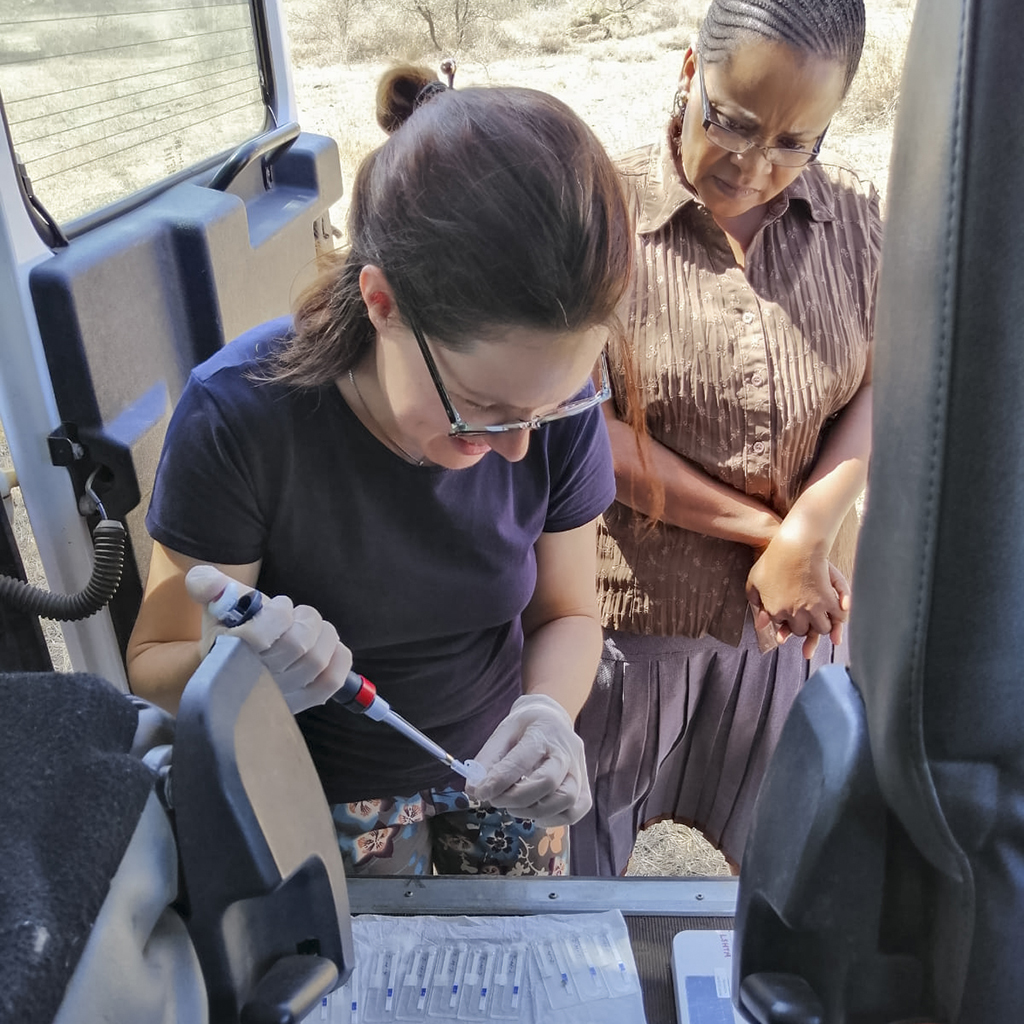 The highly contagious eye disease trachoma, which can lead to blindness if left untreated, is caused by an infection with Chlamydia trachomatis. Trachoma is one of the most common eye diseases, especially in tropical regions with poor hygienic conditions. The pathogen is transmitted by direct contact, for example by sharing washcloths or towels. But flies can also become carriers of the infection by sitting in the corners of the eyelid and infecting the eyes.
No laboratory infrastructure is required for the molecular biological DjinniChip, a rapid test combining isothermal DNA amplification (LAMP) with lateral flow detection, developed by the Fraunhofer IZI MicroDiagnostics Unit. The analysis can also be performed device-free, with the naked eye. For field research purposes, more than 350 eye swabs from the sample collection of the Kilimanjaro Christian Medical Centre were tested for Chlamydia trachomatis last year. The tests were carried out by the scientists in the laboratory as well as in the field.
The results now published in the journal "Parasites & Vectors" are very promising. The DjinniChip proved to be easy to handle and delivered fast results even in the field. "This was one of the key points for us during development, the independence of the test system from a laboratory infrastructure. With such device-free detection with the naked eye, the DjinniChip can for example be used in rural areas of Africa," explains Dr. Natalia Sandetskaya, scientist at Fraunhofer IZI, who played a major role in the development.
With the DjinniChip, many cases of infection and non-infection with Chlamydia trachomatis were correctly diagnosed in the study. However, the test system did not yet show the expected high sensitivity, meaning to detect positive cases as positive. The team is now analyzing whether this could be the result of contamination within the samples to be tested and is working to further improve the technology. In addition to better test performance, the scientists want to make the DjinniChip more integrated and user-friendly. They are also looking to expand the range of applications to other indications. Particularly in times of a pandemic, the need for reliable rapid diagnostics that could help to better assess the occurrence of infections becomes apparent.