Preclinical testing of a ATMP for the treatment of knee cartilage damage completed
The Fraunhofer Institute for Cell Therapy and Immunology IZI is certified as a GLP test facility. Most recently, the institute conducted, among other things, a preclinical study to test the safety of an ATMP for the treatment of cartilage damage to the knee. An advanced therapy medicinal product (ATMP) developed by BioPlanta GmbH was subjected to extensive testing under GLP conditions with regard to its potential undesirable biodistribution and tumorigenicity.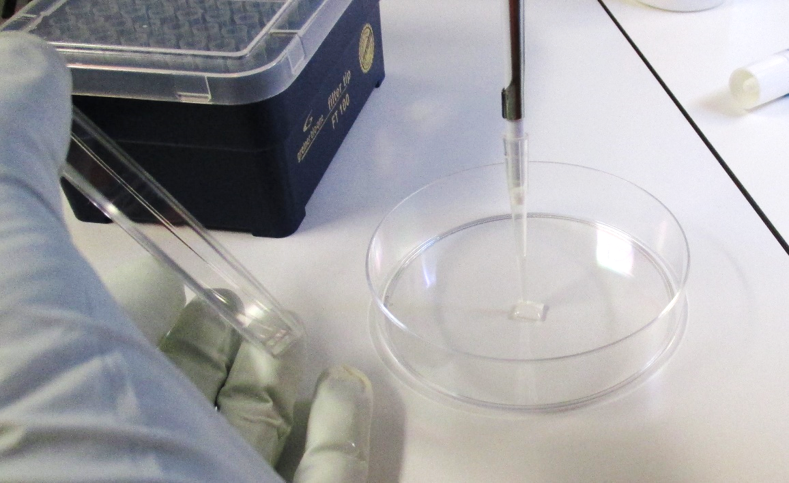 Our knee joints are covered by a layer of cartilage about five millimeters thick. By evenly distributing pressure and impact loads, it protects our joints, and its smooth surface enables smooth movement. However, this cartilage layer wears away over the course of a lifetime and cannot regenerate itself. In addition to an acute injury caused by an accident, chronic incorrect loading in particular can permanently damage the knee joint cartilage. This is very painful for those affected and can lead to considerable physical limitations. If left untreated, cartilage damage can result in chronic osteoarthritis.
Cartilage damage cannot be cured by means of physiotherapy, but only alleviated. Autologous cartilage therapy is currently available as an alternative to the implantation of a partial or full knee joint endoprosthesis. Here, autologous cartilage cells are removed from the knee joint, propagated in the laboratory under GMP conditions and then transplanted into the patient in order to cure the focal cartilage damage while largely restoring functionality. BioPlanta GmbH is pursuing a new approach that can be standardized and is less costly. Stem cells from umbilical cord tissue are used for this purpose, as they are particularly adaptable even to foreign immune systems. Implanted into the damaged knee, the cells are used to stimulate the growth of new cartilage tissue. However, before such a new ATMP can be approved, various preclinical and clinical tests must first be carried out and passed.
At Fraunhofer IZI, this ATMP has now been tested in the frame of a preclinical trial under GLP conditions. Project leader Dr. Jörg Lehmann, Head of the Preclinical Development and Validation Department, explains, "The data collected during the preclinical GLP study to assess the safety of the new ATMP is an essential component for its marketing authorization application and an essential prerequisite for the subsequent clinical trials of this cell therapy medicinal product." Fraunhofer IZI has a long-standing expertise – it has been certified as a GLP test facility for such type of studies since 2009 – and enables the planning and execution of preclinical efficacy and safety studies for new drug candidates (especially ATMPs) and medical devices (according to ISO 10993) under GLP conditions.