Professor Ulrich Demuth appointed to the German Ethics Council
On 23 April 2020, Professor Ulrich Demuth was elected to the German Ethics Council by the Bundestag. He was then formally appointed by President of the Bundestag, Dr Wolfgang Schäuble, on 30 April 2020. At present, Professor Demuth works for the Fraunhofer Institute for Cell Therapy and Immunology (IZI) in an advisory capacity. Until January 2020, he headed the Fraunhofer IZI Branch of Bioanalytics and Bioprocesses at the Potsdam-Golm site and ran the Fraunhofer IZI Drug Design and Target Validation Department in Halle (Saale), which he set up in 2013.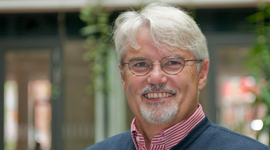 As a member of the Ethics Council, Professor Ulrich Demuth will primarily focus on scientific and medical issues as well as their ethical and social implications. "I am very much looking forward to this honourable task. I wish to contribute my experience and knowledge to benefit our country and participate in the development of recommendations providing guidelines for society and politics", Professor Demuth explained after his appointment was announced. Based on his expertise in the setting up of biotechnology companies and in drug design and target validation, he will focus, in particular, on science-based and subject-specific advice in the field of pharmaceutical development, concentrating on anti-infectives.
As a biochemist by training, Professor Demuth is a renowned expert in the development of new molecular strategies for the treatment of neurodegenerative and inflammatory diseases. He contributed ground-breaking work in the field of DP4 inhibition, a novel drug class for the treatment of type 2 diabetes. Later, he did research on an innovative treatment approach to Alzheimer's disease, based on the inhibition of glutaminyl cyclase, a central enzyme in the Alzheimer's pathogenesis. His research results have been published in more than 200 articles and have led to more than 120 patents.
"Professor Ulrich Demuth's appointment to the German Ethics Council is an excellent choice. He is a first-class scientist with an outstanding sense of responsibility for society who will provide intensive and fundamental input regarding the issues raised by the Ethics Council and its debates. On behalf of Fraunhofer IZI, I congratulate my esteemed colleague on this appointment most heartily", declared Professor Ulrike Köhl, director of Fraunhofer IZI, after the announcement. Succeeding Professor Frank Emmrich, Professor Demuth is the second former Fraunhofer IZI director to contribute his opinions and expertise to the German Ethics Council. From April 2008 to April 2016, Professor Frank Emmrich, the institute's founder and long-standing director, preceded him in this capacity.
The German Ethics Council deals with ethical, social, scientific, medical and legal issues. It informs the public, stimulates societal debates and advises the federal government through position statements and recommendations. At present, the German Ethics Council has 24 members, who perform their function personally and independently. They are experts from science, medicine, theology, philosophy, ethics, social sciences, economics and law representing various ethics approaches as well as a broad range of opinions. The members are appointed to the German Ethics Council for a four-year term of office.