SaxoCell – "living drug" Made in Saxony
Saxony-based consortium comes out on top in the BMBF Clusters4Future initiative.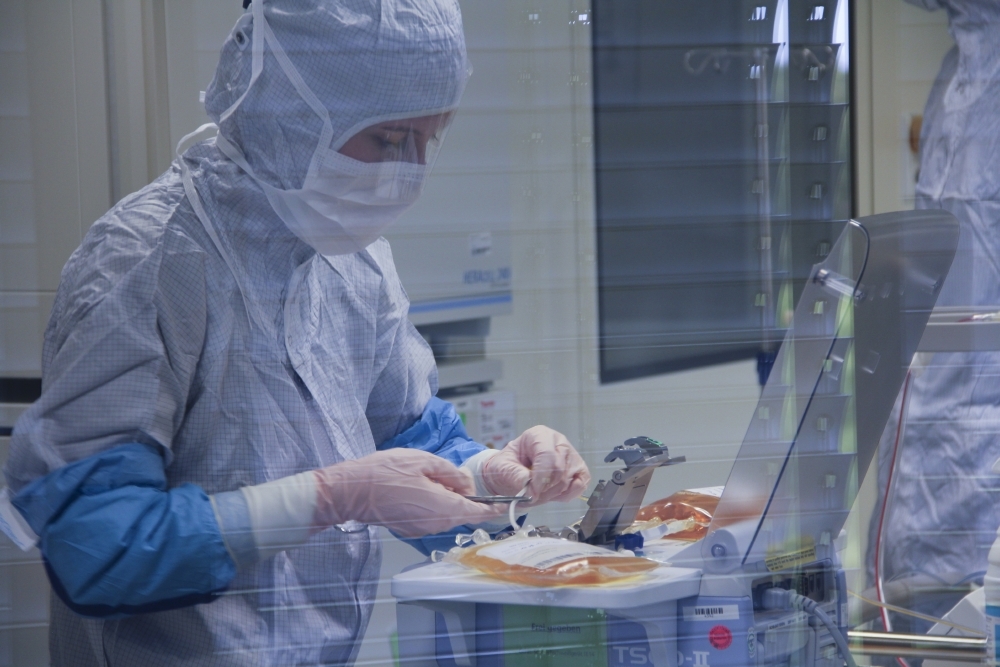 In a digital press conference held by the German Federal Ministry of Education and Research (BMBF) on February 3, 2021, the SaxoCell research consortium was announced as one of the clusters selected for funding. The consortium comprises experts from the TU Dresden, Leipzig University, Chemnitz Hospital and the Fraunhofer Institute for Cell Therapy and Immunology. Over the next three years, the project partners will collaborate with partners from academia and industry to provide novel cell and gene therapies for previously incurable diseases.
Biomedical research currently finds itself at a crossroads: despite it being technically possible to develop, manufacture and utilize innovative therapeutic procedures, their broad application would place a huge burden on the health care system – both financially and logistically.
The SaxoCell consortium has made it its mission to translate new technologies that could potentially treat previously incurable diseases into clinical application.
In Leipzig, Fraunhofer IZI has already gained experienced in manufacturing this kind of new drug in the form of CAR-T cell therapy, which is used to treat rare forms of leukemia. Application of the living drug is also proving successful at Saxony's university hospitals in Dresden and Leipzig.
Many other cell and gene therapies are on the cusp of clinical application and will find their way into everyday medical practice over the next few years. Their manufacturing processes now have to be made as efficient as possible by drawing on automation, digitalization and artificial intelligence to make them accessible to a high number of patients. Only by creating intelligent networks that bring together innovative therapies on the one hand and cutting-edge manufacturing processes on the other can we achieve the personalized precision medicine of tomorrow – precise, efficient and affordable.
Over the next three years, the funding awarded to SaxoCell will be used to support a Saxony-based cluster of universities, hospitals, research institutes and companies that are focused on the development and translation of new therapies and their manufacturing processes.
The consortium is also seeking to strengthen the regional biomedical and biotechnological industry and expand it further by attracting established and start-up companies to the area.
With this concept, SaxoCell was able to assert itself against an original 137 proposals as one of seven clusters to be granted funding in the BMBF's Germany-wide award procedure.
The Clusters4Future funding program – a BMBF initiative
On its website, the BMBF describes the Clusters4Future initiative as "harnessing the strength and effectiveness of regional networks to translate excellent research into future innovations [...]". "As the new flagship of the German government's High-Tech Strategy 2025, the future clusters will make a special contribution to knowledge and technology transfer. Through the regional approach of cluster funding, they are able to draw directly on cutting-edge research, ensuring that both technological and social innovations find their way more quickly into everyday life. At the same time, they will help Germany maintain its strong position among the world's innovation leaders and master the challenges faced in important future fields [...]."
Information from the German Ministry of Education and Research on the Future Clusters Initiative (Clusters4Future) (German only)
Clusters4future (German only)
Press release of the German Federal Ministry of Education and Research: "Karliczek: Future clusters are the innovation regions of tomorrow". (German only)
The consortium

TU Dresden
Leipzig University
Fraunhofer Institute for Cell Therapy and Immunology (Leipzig)
Chemnitz Hospital
Spokespeople
Prof. Dr. Ezio Bonifacio1
Prof. Dr. Dr. Ulrike Köhl2,3
Co-spokespeople
Prof. Dr. Martin Bornhäuser1
Prof. Dr. Uwe Platzbecker2
Further information can be found at
www.saxocell.de (German only)